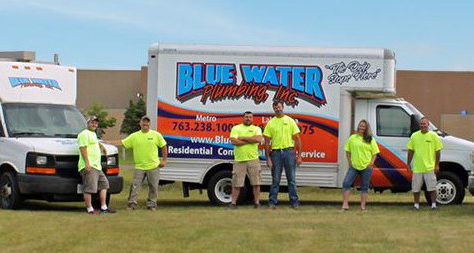 Plumbing for Commercial Properties, Retail Businesses and Contractors
If your own apartments, strip malls, warehouses, or manage townhomes or commercial properties we can help you with your plumbing problems, upgrades or general maintenance to keep the plumbing and fixtures in your properties functioning dependably. We back our service with a full year warranty that covers workmanship as well as plumbing parts and fixtures.
Restaurants and other time sensitive retail business cannot wait hours to have emergency plumbing problems repaired; we realize that you can't turn away customers just because you are experiencing a leaking plumbing fixture, sump pump failure, clogged drain or some other unforeseen plumbing problem. Give Blue Water Plumbing, Inc. a call and we will be their whenever you need us 24 hours a day, 7 days a week.
Plumbing Subcontractors serving MN General Contractors and Remodelers
General Contractors and Remodelers are devoted to keeping their new construction projects and all the subcontractors on schedule, so your job is completed on-time and on-budget, we understand your responsibilities and commitments. Josh has earned the trust and respect of the General Contractors and Remodelers that Blue Water Plumbing, Inc. has provided service for since 2004.
So whether you are planning on adding new restroom facilities to your retail business, upgrading the commercial kitchen in your restaurant, or building a luxury home for your hard-earned client, Blue Water Plumbing, Inc. is ready, capable and qualified to handle everything from the watermain to the most precise details of each plumbing fixture.
Don't take a chance with a drip on your next commercial plumbing project!
Call Blue Water Plumbing at (763) 238-1002.
"The Drip Stops Here!"