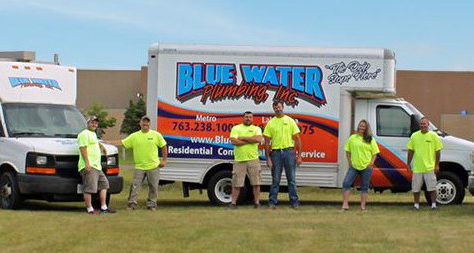 Water Conditioning – Is Hard Water or Iron in your Water leaving Stains and Clogging Pipes?
Blue Water Plumbing, Inc. handles quality BrassMaster water softeners and iron filters that effectively remove the undesirable minerals, providing you with clean, conditioned water that will dramatically reduce your problems from hard water stains and clogged pipes.
Hardness, often comprised of calcium and magnesium (along with iron), is commonly found in both public and private water systems. BrassMaster water softening systems use the process of "ion exchange" to effectively remove these undesirable minerals.
The result is clean, conditioned water that is great for washing and bathing. The other benefit of a water conditioner is that it also works to protect your entire plumbing system; including water supply lines, faucets, tubs, showers, plus appliances like your hot water heater, dishwasher and washing machine. Click to learn about BrassMaster Water Softeners.
TurfMaster Iron Filtration Stops Rust Stains on Siding and Sidewalks.
Iron is found naturally in many groundwater supplies. Although this mineral is an essential health component, it can cause major harm when distributed by irrigation systems to structures and concrete work.
The TurfMaster Iron Filtration for Irrigation Systems remove iron NATURALLY, without any need for costly and undesirable chemicals. With integration available from most irrigation controllers, filtration only takes place where necessary (zones affecting structures or concrete). This efficient system reduces equipment needs, minimizes ongoing maintenance costs, and maximizes filtration effectiveness. Click to learn about Iron Removal for Irrigation Systems. It is important to make sure that every plumbing upgrade that you have done complies with state plumbing codes, so your home's plumbing system is trouble-free and operates properly.
You can count on Blue Water Plumbing to help you select exactly what you need and professionally install it!
Call Blue Water Plumbing at (763) 238-1002.
"The Drip Stops Here!"