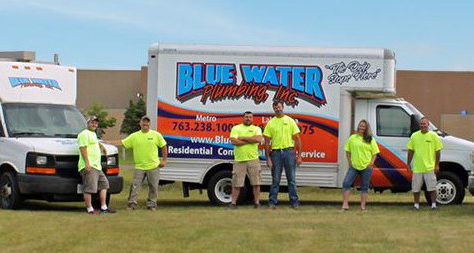 Install Yard Hydrants, so you have Clean Water Right Where You Need It.
Make watering your garden or livestock as easy as lifting a handle, by having a yard hydrant installed. We install frost-proof yard hydrants so you have immediate access to clean water where ever you need it, outside your home.
In Minnesota most people don't use their outside hose spigots during the winter, because a standard spigot located outside of a house would freeze solid and the pipe would burst. However, farmers that need a year-round supply of running water for their livestock have been using yard hydrants for many years, even throughout the winter. Outdoor water hydrants are freeze-proof and work reliably year-round.
The basic yard hydrant consists of a metal standpipe, pump rod, plunger, bleed valve or check valve, lift handle, and packing nut. Frost-proof hydrants have been manufactured for decades and are proven to be durable and dependable.
So how do Outdoor Water Hydrants Work?
When the handle of the hydrant is raised, the lifting rod lowers the plunger and blocks the check valve or bleeder. The water flows out of the spout at the top of the stand pipe. Most hydrant spouts are equipped with a threaded brass male hose fitting. When the handle is lowered, it lifts the plunger and any water left in the standpipe drains out through the bleeder/check valve.
A yard hydrant acts as an outdoor faucet. It's installed at a farther distance from your home. The purpose of a yard hydrant is to irrigate or supply water to an area of your property where using a hose would be inconvenient or inaccessible.
Make Your Life Easier, let us install an Outdoor Water Hydrant for You.
Do you have a large yard and have trouble watering the farther edges? Are you tired of having to haul out and uncoil your garden hose every time you need to wash your car? Your home may benefit from having a yard hydrant installed.
You can count on Blue Water Plumbing to help you select what you need and professionally install it.
Call Blue Water Plumbing at (763) 238-1002.
"The Drip Stops Here!"