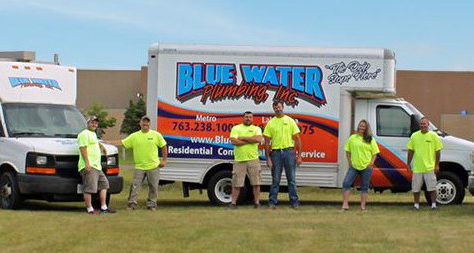 Clogged Drains? We offer Drain Cleaning, Water Jetting and Repairs
We have all been there; first you think "That drain seems to be running a little slow" and the next thing you know it is totally clogged and the water is backing up.
Give Blue Water Plumbing, Inc. a call and will be right out to take care of that clogged drain pipe, remove tree roots from your drain lines, water jet clean your clogged lines, or repair any plumbing leaks in your pipes or fixtures. We can also do an inline video inspection of the clogged drain line to see exactly what the problem is, so we can efficiently repair your clogged drain line as quick as possible. We also have specialized equipment to quickly locate underground plumbing lines for commercial property owners and businesses.
Clogged floor drains and clogged mainline drains are No Problem for us!
Some companies may just poke a hole in the clog so the water drains, but in a short time the drain is clogged once again. Blue Water Plumbing, Inc. can water jet the drain pipe so it's completely free of clogs and looks as clean as new on the inside.
Typical drain Snaking compared to Water Jetting the pipe.
Sludge, grease, soap, and tree roots will eventually build up closing your drainage line like a clogged artery. Snaking may work well for punching a hole through the clog, so the line drains once again, however it can't restore the diameter of the drain like water jetting does. Just snaking a drain line can leave deposits on the walls of the pipe with a rough edge that catches debris and forms another clog in the line. Water jetting thoroughly clears pipes to give you the longest lasting protection against future clogs.
Don't get stuck with a drip, when you need plumbing or drain cleaning!
Call Blue Water Plumbing at (763) 238-1002.
"The Drip Stops Here!"