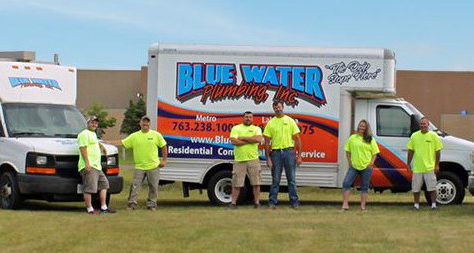 Full Service Plumbers offering Plumbing Installation and Repairs
No matter what your plumbing problem is, call us because we can fix it sooner and for a fair price too! Blue Water Plumbing, Inc. has been helping home owners solve their plumbing problems since 2004. We have a team of experienced plumbers with clean, well-stocked service vans that are ready to come to your rescue whenever you call. We even offer 24 hour emergency service for those plumbing problems that need to be taken care of immediately.
Whether it's a sump pump or a water-saving toilet, we can repair or replace any of your plumbing appliances at an affordable price. We offer a full one year warranty on all of our products and services for your peace of mind. From updating your kitchen with a traditional Farmhouse sink and retro-look, washerless faucet to diagnosing high and low pressure problems, we can make your life easier by repairing or replacing your plumbing fixtures. Today's plumbing fixtures offer a whole world of options, from traditional or casual to the sleek new modern look, we can help you find the exact style that will complement your home.
When your water heater quits working, you need a new dishwasher installed, your basement flooded because your sump pump when out, or if you just need that leaking faucet repaired,
Call Blue Water Plumbing at (763) 238-1002.
"The Drip Stops Here!"